LIFTTRAX™ IS TRADEMARKED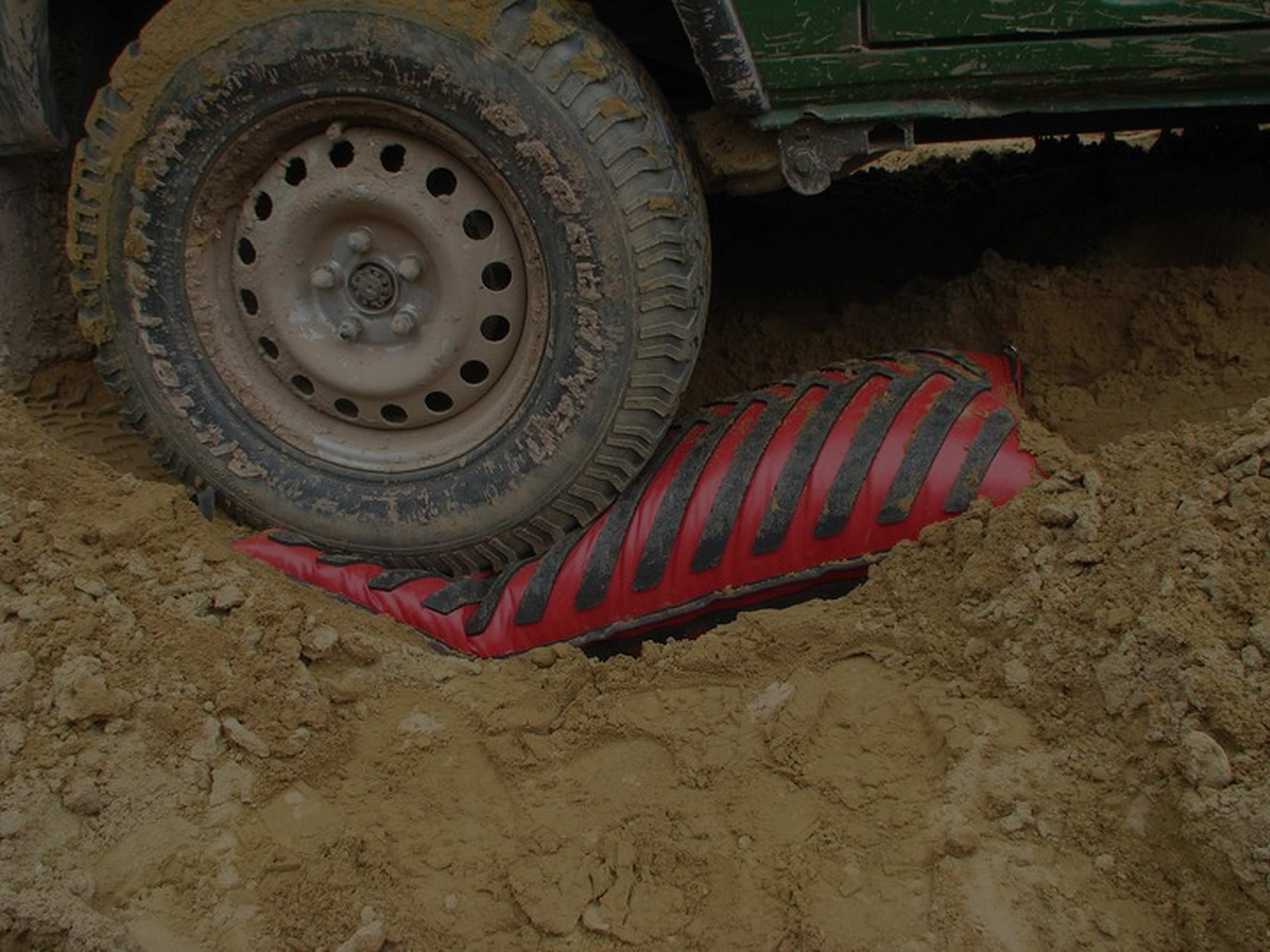 THE STORY OF LiftTrax™
The international evolution of LiftTrax™
LiftTrax™ are inflatable, flexible 4x4 recovery devices that will get you out of a jam.
Many years ago a group of friends in Israel, who were also engineers and 4x4 enthusiast, were out 4x4ing and ran into problems that could not be fixed by ridged, hard, inflexible plastic tracks.
They looked for an alternative and there was none so they put their heads, knowledge, degrees and experience together and in 2008 LiftTrax™ was created.
Originally named PillowTrack they were renamed to LiftTrax™ in 2010.
LiftTrax™ were doing very well internationally until 2012 when, after much civil unrest in Israel, the manufactures just disappeared.
After much time, paperwork and legal requirements in 2015 we received one of the very last sets of the original LiftTrax™ sent from Middle America and shipped to Australia.
LiftTrax™ sat dormant for a while and in mid to late 2018 we started the development of the new and updated LiftTrax™, sourced the suppliers, created and tested the prototype and are ready for production.
In 2019 we opened pre-sales and only a few pre-sales were created and not enough to get LiftTrax™ up and running again.
Now in 2020 we are ready for production to start pending enough interest as there are tens of thousands of dollars of equipment that needs to be purchased to make LiftTrax™.
LiftTrax™ ARE FAR MORE VERSATILE THAN PLASTIC TRACKS
VIDEOS AND PHOTOS OF LiftTrax™
CHECK OUT ALL THE DIFFERENT APPLICATIONS FOR LiftTrax™
LiftTrax™ are heavy duty inflatable 4x4 recovery devices that are very versatile.
Check out all the photos of the original LiftTrax™ in action and watch the LiftTrax™ videos below.
LiftTrax™ IS THE ONLY INFLATABLE 4X4 RECOVERY DEVICE IN THE WORLD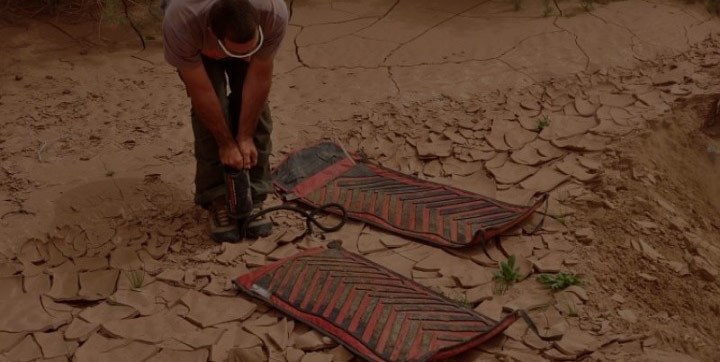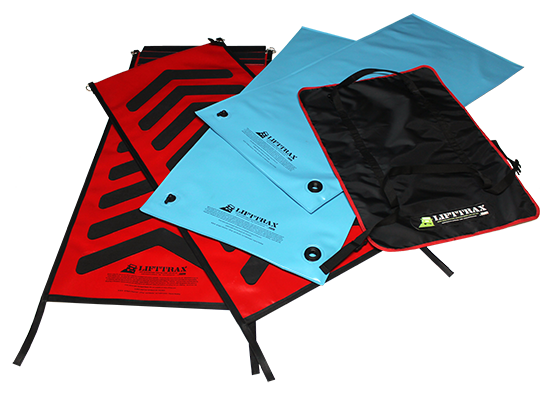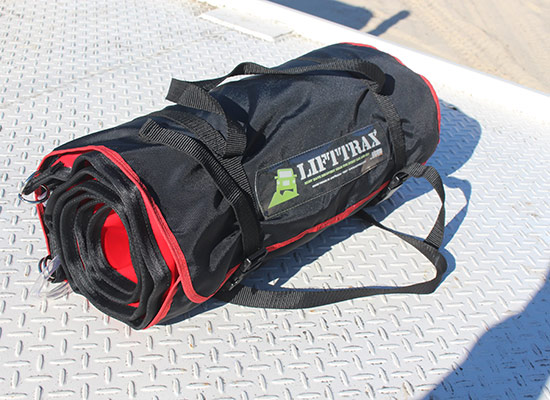 LiftTrax™ SPECIFICATIONS
Every set of LiftTrax™ includes:
2 x LiftTrax™ Outer Cases... each case is 530mm (20.86") wide by 1100mm (43.3") long
2 x LiftTrax™ Bladders... the bladders fit the Outer Cases
1 x LiftTrax™ Carry Case... 530mm (20.86") wide by 750mm (29.52") long
LiftTrax™ Instructions... comprehensive printed instructions
LiftTrax™ Online Tutorials... online video tutorial library
LiftTrax™ Lifetime Warranty Information... warranty card
Shipping to your door... we ship to most countries using Australia Post and their network of international partners.
LiftTrax™ inflates to approximately 320mm (12.6") high.
If you double LiftTrax™ over it can go as high as 390mm (15.35") to 410mm (16.15").
LiftTrax™ can hold up to 4 tons.
LiftTrax™ should be operated between 1 to 3 PSI but no more than 5 PSI.
Ideally you need some form of inflation device to inflate LiftTrax™, which is not included... most 4x4er's carry a compressor or pump already and to include a pump with LiftTrax™ would just increase the price for something you may not need... additionally, depending on what part of the world you are in, the cost to ship a pump from us to you might be more than the cost of buying a pump locally... remember you can always blow LiftTrax™ up with your mouth if needed.
NOTE: LiftTrax™ is NOT designed to be pumped up with your exhaust... there have been comments of adding this feature however the toxic fumes put out by an exhaust is not good for the internal bladder and will reduce the lifespan of your LiftTrax™.
NOTE: LiftTrax™ are handmade and there may be minor variances in measurements.
LiftTrax™ PRICING
THIS PRICE INCLUDES EVERYING... EVEN SHIPPING TO YOUR DOOR
We have determined that you are in United States.
LiftTrax™ sells and ships worldwide... pricing includes shipping and reflects the country you are in and the local, or best, currency we can offer.
Each set of LiftTrax™ is ONLY
$399 (USD)
Prices are in US Dollars and includes shipping from Australia to United States.
INCLUDED IN THE PRICE
1 x LiftTrax™ Carry Case
2 x LiftTrax™ Outer Cases
2 x LiftTrax™ Bladders
LiftTrax™ Instructions
LiftTrax™ Online Tutorials
Lifetime LiftTrax™ Warranty
Shipping to your door
REGISTER YOUR INTEREST IN LiftTrax™
BUY LiftTrax™ NOW
register your interest
LiftTrax™ is $399 (USD) when being shipped to United States.
Prices are in US Dollars and includes shipping from Australia to United States.
LiftTrax™ is not yet for sale and is in registration phase.
Once there has been enough people registered we will contact everyone for pre-sales ready for production.
If you are seriously interested in LiftTrax™ and would seriously consider buying LiftTrax™ please complete your information below and we will keep you up to date.
register your interest now
ANY QUESTIONS ABOUT LiftTrax™... LET US KNOW
CONTACT LiftTrax™
questions, suggestions, comments... let us know
Here is all of our information...
company information
LiftTrax™ is an Australian registered business
LiftTrax™ ABN: 16 144 867 176
LiftTrax™ is owned by HiGoTec™
There is GST on all Australian sales
There is no local sales tax on orders outside Australia
contact information
We are located in Brisbane, Australia and our postal address is:
LiftTrax™
PO BOX 278
FORTITUDE VALLEY QLD 4006
Australia
Currently we only offer email support